Cielo Azure Lusitanos (CAL) is a stud, breeding and training farm specializing in highest quality Portuguese-registered APSL Lusitanos. Exceptional movement, conformation, blood lines and athleticism drive our breeding program. We breed and train to meet the demands of the advanced amateur and professional rider. The carefully hand-crafted horses produced by Cielo Azure Lusitanos are raised, shown, inspected and trained using classical methods, yielding equine partners matched to your goals in academic riding, competitive dressage, and working equitation.

The modern Lusitano has been carefully developed in Portugal over the last few decades to become a world-class versatile sporthorse while remaining true to the historic breed type and characteristics of this oldest of ridden horse breeds.
A premiere rare breed, Lusitano horses rule global Working Equitation competition, are a desired driving horse, and modern Lusitano sporthorses have become a preferred mount for FEI-level dressage competition. Ranked by breed, Lusitanos are currently 7th in FEI dressage rankings out of about 80 breeds of horses that typically compete at this level. As there are only about 12,000 Lusitanos in the world, this is a significant achievement; FEI-level dressage has long been dominated by Northern European warmblood breeds. It was the foresight of some of the past and present great Lusitano breeders to selectively combine the four historic lineages (Veiga, Andrade, Alter Real, Coudelaria National) resulting in a horse capable of succeeding in competitive dressage. The godfathers of this more modern Lusitano include Xaquiro and Hostil: two horses that transformed what people thought Lusitanos was capable of. Most of the great modern Lusitano dressage horses can be traced back to these two sires.

The Lusitano sporthorse that now excels in international dressage competition has a very flexible and strong back, a good croup, open throat latch, an extended trot which retains the comfortable seat that differentiates the breed from many warmbloods, and still maintains the intuitive and willing mind, natural agility and ability to collect that are fundamental strengths of this historic working breed.
Modern Lusitano sporthorses are a testimony to the innate genetics present within this rare, ancient breed, and are also a tribute to the many generations of Portuguese and Iberian breeders who have contributed to making the present and future generations possible.
These more modern horses have schwung! They have the strength, bone, mind and athleticism to hold up to the work. They have presence. They tend to be a little taller than the older "bullfighter" type Lusitanos, which are also often associated with a shorter, thicker neck. But they are true to breed type, with a form factor that is more square, and the typical sub-convex head which contributes to the characteristic overall "rounded" appearance of the collected Lusitano. These horses still have the Lusitano mind, heart, soul, and comfortable seat, and are all Lusitano. Nothing has been taken away, only improved through careful selection. Click here for a description of the international breed standards.

We are proud to be closely following and learning from leading Portuguese Lusitano breeders with our breeding program, as we seek to help bring these advances in Lusitano horse quality and selected genetics to North America!
We do have foals and young stock representing these genetics on the ground and ready for sale.
Magnificent Buckskin Lusitano Stallion: Presenting Jade
Jade II Da Sernadinha is a magnificent, imported and APSL approved buckskin Lusitano stallion. Jade represents the absolutely best Lusitano dressage bloodlines in Portugal, lines that are known for their commanding presence and fantastic movement.
Jade's powerful genetic lineage gives him extraordinary and correct conformation. He is truly a genetic storehouse of the best of the Lusitano breed. Evidence of this is that he has already won a silver medal from the APSL in the USA; an achievement that few Lusitanos attain. In 2019, Jade entered his first recognized dressage show and scored a respectable 65%.
What makes Jade so unique is his laid-back personality and eagerness to please, combined with a strong work ethic. Jade just loves people.
Impulsion, action and extension define his movement. Grand Prix dressage and working equitation are in his future and he has already excelled in the show ring.
Jade is the 2016 EARHC Eastern Region Lusitano Stallion Champion.
Jade is an APSL Silver Medalist.
Jade unique and highly desired color includes the crème gene, giving him his buckskin pattern. Jade coat is also frosted and dappled. He has a lovely Lusitano sub-convex head and Iberian body type, along with height and bone. These are qualities that will pass to his offspring.
Sire: Campeador (76 points) -APSL recommended stallion,

Dam: Camurca (82 points) - APSL recommended mare.

Grand sire (on both sides) is Spartacus (81.5 points) APSL recommended stallion and APSL Stallion of Merit (one of seven in the world).

Both dam and sire sides pass directly to the great stallion Xaquiro.
We are proud to be Standing Jade II Da Sernadinha for the 2019 season but we only have one more slot available, as we have limited his number of breedings this year!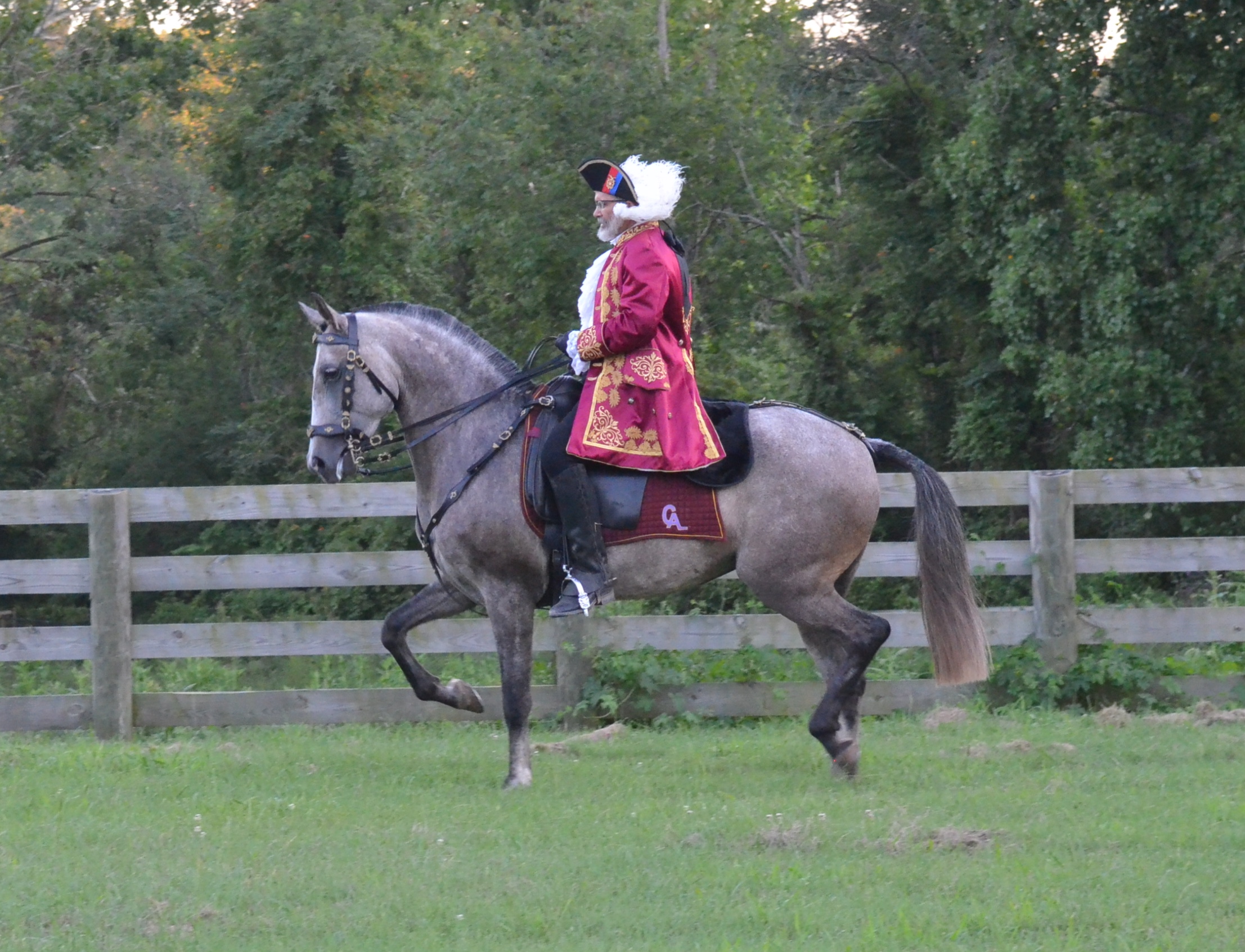 Upcoming LUSITANO Champions
— Young stock for sale